Introducing the
Fraser Gardens in Bloom Project.
As a special project in celebration of Canada's 150th Birthday this year, the South Hill Business Association (SHBA) is leading the beautification of gardens on Fraser Street. The goal of the Fraser Gardens in Bloom project is to inspire and support the love of gardening in our community. With the help of our friends and neighbours, our vision is to transform every public garden plot on Fraser Street from 41st to 50th Avenues into a cacophony of green and colourful flowering blooms lovingly cared for by both expert and novice gardeners alike for years to come. This includes the small utility strip gardens as well as those tended by Green Streets gardeners.
The SHBA is now inviting residents to join in developing your gardening skills and to share your skills with others while giving your talents and time to this energizing neighbourhood plan.
We invite you as an individual but also your church group, your legion, your scout or girl guides group or other community organization to participate in this Fraser Street community project. Together we'll create attractive spaces to be enjoyed by all who visit and shop the South Hill Business Area. Employees of businesses on Fraser Street are welcome, of course.
Our mandate as the South Hill Business Association is to "improve the environment for people and business" and as a not-for-profit organization, we depend on the goodwill of our neighbours and residents whom we support in turn through public events for the community and of course in offering our shop products and services in the South Hill commercial area.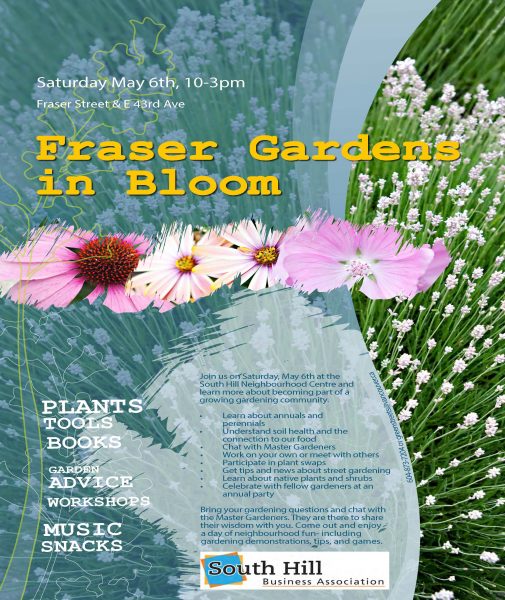 If you've ever thought about gardening now is your chance to learn, and to get to know others in a fun atmosphere. Volunteer a little of your time on a monthly basis and we'll celebrate together our first season accomplishments with a big Canada Day Party on July 1st.
Come out on May 6th for the kick-off Street Party
Join us for the launch of this energizing community project on Saturday, May 6th at 10 a.m. at the South Hill Neighbourhood Centre at 5888 Fraser Street. See the poster above for all the details! Come for fun. Come for community. Come to share your skills. Come to learn. Come to help beautify your local business area. Then celebrate with us on Canada Day when we show the whole community our gardens with a self-guided tour map.
Here's our SHBA pledge to you:
SHBA will coordinate and oversee the Fraser Gardens in Bloom Project;
We'll make it fun and educational, invite horticulturalists and landscape designers/architects to teach us how best to care for our street gardens and invite volunteers to free seminars and workshops;
SHBA's Executive Director commits to tending two of the gardens on her own time, along with fellow volunteers.
Green Streets Program Perks
Free compost in spring and fall
Notice of plant sales and give-aways
Monthly news and tips for street gardening
Green Streets Plant Swap event in the spring
End of the season Green Streets Garden Party
How individuals & groups can apply to "Fraser Gardens in Bloom" Project & Green Streets Program:
Join us on Saturday, May 6th for a Street Party to kick off all the events taking place under the Fraser Gardens in Bloom Project and register your interest, OR
Visit www.vancouver.ca/greenstreets to learn more about the Green Streets Program and what it means to be a Green Streets gardener. Read the Green Streets Gardening Guidelines.
Phone Green Streets at (604)873-7204 to find out which Fraser Street gardens between 41st and 50th avenues are available near you. (There are lots!) Take on a garden as an individual or a group.
Then, apply online at www.vancouver.ca/greenstreets. Once your application is confirmed, take your green thumb to Fraser Street and share your love of gardening with your community!
Email SHBA to be invited to free special events for Fraser Street Volunteer Gardeners where you'll also meet others like yourself. Drop me an email at [email protected] with your request to be placed on the exclusive mailing list for Fraser Street Gardeners and remember to include your full name. (We never share our list and you can be removed at any time with an emailed request.) We welcome all!
Kindly share this information with all members of your congregation and committees. We look forward to welcoming you alone or with friends and/or your group into the SHBA gardening community.
Please contact me with any questions. Thank you.
Susan Lilholt
Executive Director
E: [email protected]