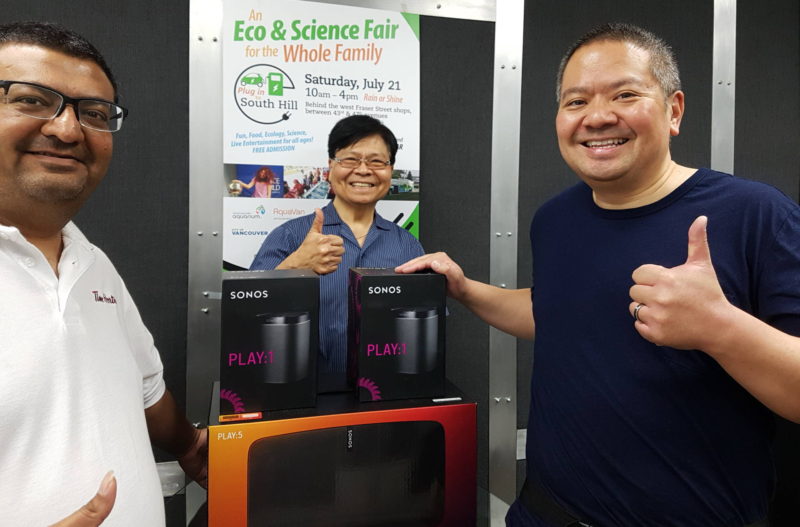 South Hill Business Association Announces Contest Grand Prize Winner
"Wow! This is really exciting," exclaimed Anthony Wong upon receiving the phone call announcing that his name had been drawn in the 'Passport to South Hill' Contest. And after successfully answering the skill-testing question, Anthony was declared our Grand Prize Winner.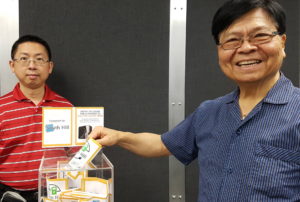 The winning ballot was drawn on Monday, July 30th at 1:00 p.m., in accordance with Contest rules. Anthony, who is a teacher, came in to claim his prize the same afternoon and two South Hill Business Association board members Stephen Tam and Jinesh Shah were on hand to congratulate him.
The Grand Prize, a SONOS Audio System purchased by the Association and supplied by Sunny Electronics AVU, has three components, a Play 5 and two Play 1 speakers. Using local in-house WiFi technology, the system allows anyone in the home to play and control music in and from any room in their home, using a digital phone, tablet or computer. Anthony and his family can play their own individual playlists, tap into the connected SONOS playlists and Radio by TunedIn radio stations or create their own individual digital playlists using the SONOS features. One of the unique design characteristics of the Play5 component is also its provision for analog connection, so if family members have a vinyl collection or CDs for example, they can play them through their SONOS speakers. And the sound from the small speakers is incredibly good.
"My wife is going to love this system", stated Anthony; "she currently listens to music directly from her phone."
The Passport to South Hill Contest was launched during the Plug in to South Hill event on July 21st when the Association held an Eco and Science Fair for the whole family. Attendees at the Fair were handed a 'passport' and had eight (8) days to visit three businesses on Fraser Street within the South Hill Business Association boundaries between 41st and 50th avenues and obtain the initials of an attending employee at each location. No purchase was necessary. Once contestants added their own name and contact information the 'passport' became a ballot they dropped into the ballot box located inside The UPS Store on Fraser Street.
Congratulations, Anthony, from the South Hill Business Association on winning the Passport to South Hill Contest Grand Prize!