The City of Vancouver's Green Streets Program encourages citizens to beautify their neighbourhoods by tending street gardens in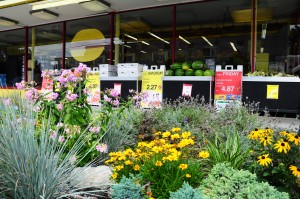 traffic circles and corner bulges.
The Green Streets Program has been blooming ever since its beginning in 1994. Today there are well over 350 Green Streets gardens cared for by volunteers.
Street gardeners agree to work with the City and with their communities to help the gardens grow during the year. Some gardeners simply weed and water while others choose to express their own personal touch by adding their favourite plants, providing more colour and interest through the changing seasons.
In the spring of 2007, a volunteer group in South Hill joined the Green Streets Program to beautify and clean up Fraser Street. Since then, they have looked after corner bulges and green areas between 43rd and 49th Avenues.
A green sign in a garden indicates that it is available. A yellow sign lets passers-by know that someone in the neighbourhood is caring for it. If you are interested in adopting a bulge garden that doesn't have a Green Streets sign, there may be an opportunity to make it part of the Program. Fill out the online application or contact the Green Street Coordinator to find out if it can be sponsored.
Soon there will be new planters on Fraser Street. These will be available for volunteer gardeners to look after as well.
Business owners can help beautify our Fraser Street and to enhance the area by making sure storefronts and backyards are clean and inviting.