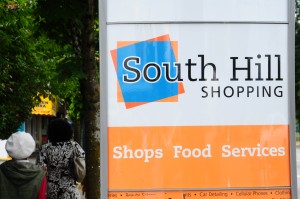 Download the Bizmap report for South Hill
Learn what the South Hill Business Association has accomplished between 2007 and 2018: South Hill Business Association Accomplishments Brochure (2007 to 2018)
Learn what the South Hill Business Association is working on in 2018: South Hill Business Association Brochure 2018
Note: The date for Keep Vancouver Spectacular 2018 has changed to Saturday, June 2nd.
Learn about the South Hill BIA renewal process: Renewing the South Hill BIA Brochure (2019-2024)
The South Hill (Fraser Street) Business Association is a not-for-profit organization established to develop, encourage and promote business in South Vancouver on Fraser Street between 41st and 50th Avenues.
The South Hill (Fraser Street) Business Association first received its BIA (Business Improvement Area) status from the City of Vancouver in April 2007 for a 5-year term.
At present, the association is going through a renewal process. The membership agreed in the 2011 Annual General Meeting to apply for a 7-year term.
Within the South Hill or Fraser Street BIA, there are approximately 250 business tenants and commercial property owners.
The association is funded by a tax levy paid by each commercial property owner within the South Hill BIA boundaries. In most lease agreements, property owners pass on this cost to the business tenants.
The annual SHBA budget is distributed to the membership prior to the Annual General Meeting, where it is discussed and approved.
All BIA budgets are also approved by the City Council and the year-end financial statements are audited and reviewed by the City.
The Audited Financial Statements for Year-end 2018 (approved) document is now available.
The Fraser Street BIA's 2012-2013 budget is available for download here: Approved SHBA's 2012-2013 Budget
NOTE: Some photos for this website were taken by Kamal Dabir.